Event
International Workshop on New Generation Power Electronics and Systems (1st NPES)
Date and time: January 16, 2017, 10:30-16:40
Free to participate 
Venu: Hatsumei-Kaikan, Toranomon 2-9-14, Minato-ku, Tokyo, Japan
Program
 10:40 Prof. Alberto Castellazzi, The University of Nottingham, UK
      Modular Integration of Power Modules for Improved Performance, Reliability and Availability
 11:20 Prof. Francesco Iannuzzo, Aalborg University, Denmark
      Mission-Profile-Based Methodologies for Bond Wire Stress Analysis in Power Modules
 12:00-13:30 Lunch break
 13:30 Dr. Yuki Negoro, Keihin Corporation, Japan
      High Power Density Power Control Unit for Two-Motor Hybrid System
 14:00 Prof. Kimihiro Yamanaka, Chukyo University, Japan
      Electromigration Reliability of Solder Joints in Power Modules
 14:30 Mr. Takashi Nishimura, Mitsubishi Electric Corporation, Japan
      Packaging Technologies for the Power Module with Organic Insulating Layer
 15:00-15:20 Coffee break
 15:20 Prof. Hiroshi Tadano, Tsukuba University, Japan
      Reliability of Power Semiconductor Devices on the Circuit Operation
 15:50 Prof. Nando Kaminski and Dr. Christian Zorn University of Bremen, Germany
      Impact of Humidity on High Voltage Semiconductor Devices
 16:30 Closing remarks
Sponsors: NPERC-J (*1), City of Kitakyushu/GRIK (*2)
Co-sponsor: Kyushu Institute of Technology
Supported by: ISPSD 2017 committee
This workshop is also supported by following organizations:
  Kitakyushu Foundation for the Advancement of Industry, Science and Technology (FAIS)
  The Institute of Electrical Engineers of Japan (IEEJ)
  The Japan Society of Mechanical Engineers (JSME)
  The Institute of Electronics, Information and Communication Engineers (IEICE)
Contact:
  E-mail: , TEL: +81-3-5614-0210 (NPERC-J)
  E-mail: , TEL: +81-93-695-3075 (GRIK)
Map: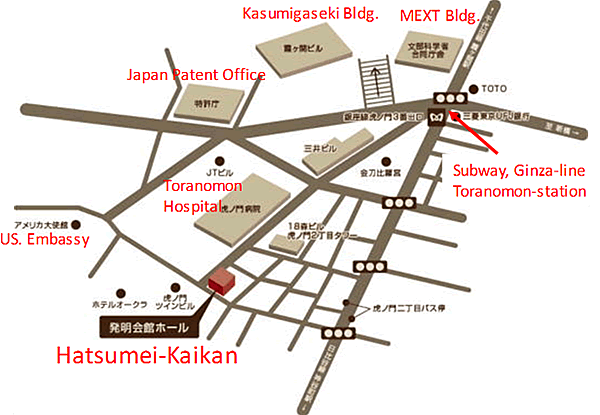 General Chair: Ichiro Omura (Kyushu Institute of Technology)
 Program committee: Mutsuhiro Mori (Hitachi), Katsumi Sato (Mitsubishi Elec.), Yuichi Kado (Kyoto Inst. of Tech.), Tamotsu Ninomiya (GRIK), Shin-ichi Nishizawa (AIST), Keiji Wada (Tokyo Met. Univ.), Wataru Hatano (Toshiba), Hazime Shimizu (NPERC-J)
 Advisory Committee: Hiromichi Ohashi (NPERC-J, GRIK), Atsuo Kawamura (Yokohama Nat. Univ.), Koji Tomita (Yaskawa Elec.), Noriyuki Miyazaki (GRIK)
 Workshop secretary: Hazime Shimizu (NPERC-J), Yasuhiro Morinaga (GRIK)
 Secretary: Masanori Tsukuda (GRIK), Yusuke Hayashi (GRIK)
 Sponsors: NPERC-J (*1), City of Kitakyushu/GRIK (*2)
 Co-sponsor: Kyushu Institute of Technology
 Supported by: ISPSD 2017 Steering committee
This workshop is also supported by following organizations:
 Kitakyushu Foundation for the Advancement of Industry, Science and Technology (FAIS)
 The Institute of Electrical Engineers of Japan (IEEJ)
 The Japan Society of Mechanical Engineers (JSME)
 The Institute of Electronics, Information and Communication Engineers (IEICE)




IEEE Electron Device society webinar (Online lecture)
[Date] December 2, 2015
[Sponsored by]IEEE Electron Devices Society
Archive: http://eds.ieee.org/webinar-archive.html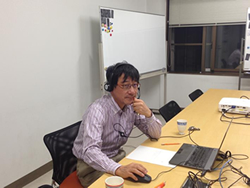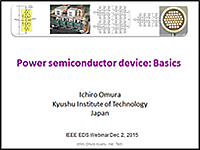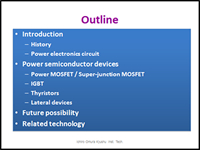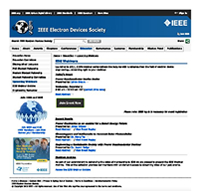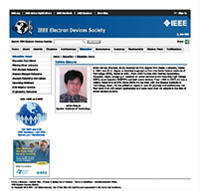 NPERC-J 2nd Workshop
"Working Towards the Production of Green Electronics"
The Power Electronics of 2025, As Imagined by NPERC-J
[Date] 2015/11/16
[Place] Plaza F
[Sponsored by] NPERC-J
Summary
NPERC-J held their second workshop for corporations on developing a deeper understanding of NPERC-J activity and the related technology.
Program
Opening remarks and statement from the president
Hiromichi Ohashi
NPREC-J president
Vision of Power Semiconductor Devices in 2025
Ichiro Omura
Kyushu Institute of Technology
The Fate of Converters: Multi-level or Two-Level?
Keiji Wada
Yukihiko Sato
Tokyo Metropolitan University
Chiba University
The Power-electric Networking of 3-Port Electric Router Cells
Yuichi Kado
Kyoto Institute of Technology
The Microgrid Power Network Initiative: To Carry on Our Offgrid Lifestyles
Hirohito Yamada
Tohoku University
The Reliability of PE from the Perspective of a Mechanical Engineer
Noriyuki Miyazaki
Green Electronics Research Institute, Kitakyushu
The Present and Future of Materials and Power Devices According to Patent Searches
Yoichi Oshima
Tohoku University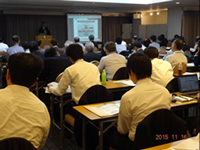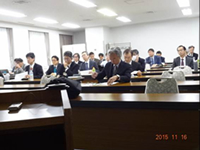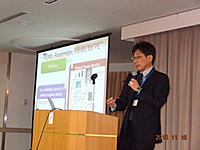 NPERC-J Technology Exchange
[Date] November 16, 2015
NPERC-J held a members-only technology exchange in which students presented and demonstrated their findings using posters.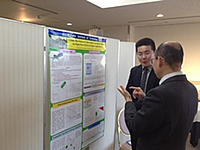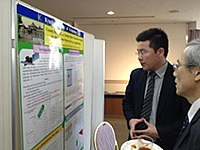 Presentation on the power semiconductor for Spacecraft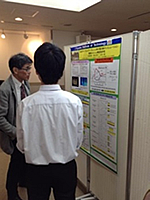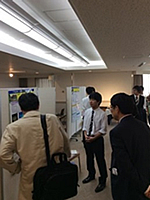 Presentation on IGBT dynamic Avalanche mechanism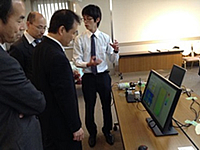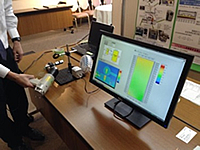 Presentation on Real-time Simulation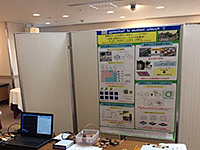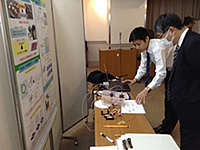 Presentation on Tiny Current Sensors for IGBT Modules
Briefing on New Technology
[Date] October 30, 2015
[Place] JST Ichigaya Annex 1F Hall
[Sponsored by] Japan Science and Technology Agency (JST)
Summary
The briefing purposes that the patents and the results of research of high-potential produced in the universities, technical colleges, and national institutes for researches are effectively transferred to the industries and companies. An oral presentation, followed by the corresponding poster, was given on "A new technique of high-speed evaluation of bulk carrier-lifetime in semiconductor wafers for the high-voltage power devices". The presentation sparked a lot of interests and questions among the engineers and managers attending from the related companies of materials and measuring instruments. The coordinator, Mr. Y. Ogihara, in the promotion department for the innovative and cooperative researches between academia, industries, and the government was also present.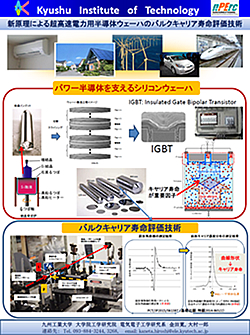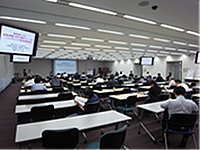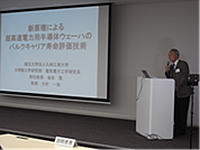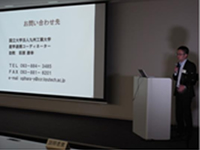 Green Electronics Research Institute, Kitakyushu Workshop
[Date] October 1, 2015
[Place] Kitakyushu Science and Research Park (Kitakyushu)
[Sponsored by] The City of Kitakyushu
Summary
Green Electronics Research Institute, Kitakyushu held a workshop with the goal to further the centralization of the green electronics research activity. Following an opening ceremony with attendance of the Mayor of the city, Director Ohashi and research office managers delivered a series of lectures.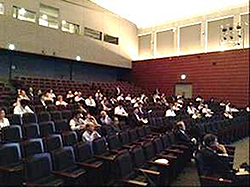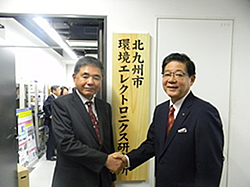 Program
"The Process of Establishing a Research Facility"
Hiromichi Ohashi
Director of Green Electronics Research Institute, Kitakyushu
"Power Electronic Circuit Systems for Green Grid Networks"
Tamotsu Ninomiya
Principal Researcher at Green Electronics Research Institute, Kitakyushu
Professor emeritus at Kyushu University
"Research on Next-Generation Power Semiconductor Devices for an Advanced Power Society"
Ichiro Omura
Professor of Electrical Engineering Research at Kyushu Institute of Technology
"Research on the Reliability of Next-Generation Power Electronics"
Noriyuki Miyazaki
Principal Researcher at Green Electronics Research Institute, Kitakyushu
Professor Emeritus at Kyoto University and Kyushu University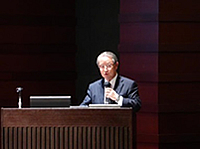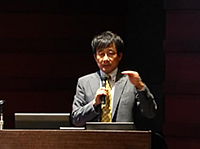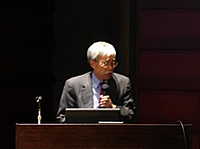 Plenary Talk at ICPE 2015-ECCE Asia Plenary Talk
[Date] June 2, 2015
[Place] 63 Convention Center, Yeongdeungpo-gu, Seoul, Korea
[Sponsored by]KIPE(The Korean Institution of Power Electronics)
[Co-sponsored by] IEEE-PELS (IEEE Power Electronics Society)