Introduction
Greeting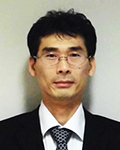 The next-generation power electronics research centre established in 2012 as a core centre of the Kyushu Institute of Technology and has been engaged in comprehensive research and development of semiconductor materials, power semiconductors and power electronics circuits for the last decade.
In recent years, the centre has been promoting research on (1) extreme performance power semiconductor devices, (2) power supply integration, (3) real-time monitoring technology, (4) sensing technology, (5) miniaturization and efficiency improvement of power electronic devices considering "Power Electronics and Power Semiconductor Technology for NZE by 2050".
To achieve NZE by 2050, the Co2 emission target for 2030 is 46% of the 2013 level, but according to a report released by the United Nations agency in late October 2022, it is even unlikely to achieve the 2030 target. We believe in the importance of building highly efficient, reliable, and flexible systems by integrating the power electronics and power semiconductor technologies so far that have been developed and augmented by us.
Since it is difficult to optimize the configuration, manage and control the detection signal and achieve optimal control in increasingly complex systems using only conventional design and control technologies, the centre plans to conduct activities aimed at research and development of new construction and design techniques using model-based design and virtual prototyping technologies.
Finally, I serve as the centre director from FY 2022. I will continue to promote research activities and human resource development, share research results, and disseminate information, and I look forward to your continued guidance and encouragement.
Mission
Technology Development
Development of ultimate power semiconductor devices aimed at achieving extreme energy conservation

We conduct research on the new types of silicon power devices with high performance as well as high-volume production capability. By incorporating a new concept that helps in realizing extreme performance based on silicon technologies coupled with high-volume production capability, we aim to achieve low loss and high switching speed performance, as well as to drastically reduce the chip area by creating high current density pathways.

Development of integrated power electronics to realize micro-miniaturization.

Our goal is to realize next-generation ultra-miniaturized power systems that are three-dimensionally laminated and integrated, we intend to promote research in the following fields: development of three-dimensional implementing technology with extreme high density abricating full use of LSI and MEMS processes, development of high-frequency and high-temperature operational power devices and technologies to enhance their reliability, heat xhausting technologies, and circuit and control technologies. Specifically, the realization of high-frequency switching and approches to be taken for higher heat generation density through high-density implemention are important issues for us.

Development of real-time monitoring technology to detect failure causes of power semiconductor devices.

Next-generation power devices have a higher current density and stronger internal electric field, which makes their structures and other factors more complicated and susceptible to degradation and breakdown. Therefore, it is becoming very difficult to ensure sufficient reliability of these devices with the existing lifetime evaluation methods. Real-time monitoring technology is a set of devices to temporally and spatially observe phenomena triggering a failure at micro-levels. By obtaining data on structural changes in packaging, time variations of the distributions of currents, electromagnetic fields, temperature, and other factors with high spatial resolving power, we aim to reveal the mechanism that leads to the failure of these devices.

Power electronics control and its integration with the digital network.

With the advancement of information and communication technologies, there has been steadfast progress towards digitization and networking of power devices and further progress is likely towards intelligentization of these devices. We conducted a preceding study on the gate drive circuit of power semiconductors from the perspectives of digitization and networking. By monitoring and controlling these power devices using digital circuits, we aim to improve the performance of power devices themselves and realize high-speed protection.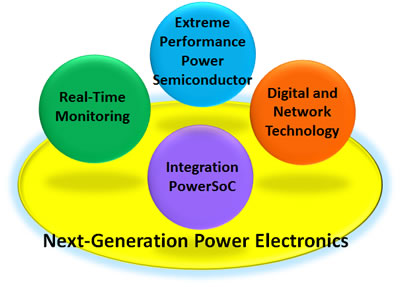 Turning the center into a hub, developing human resources, and drawing up a comprehensive roadmap for collaboration.
Our participation in the nationwide consortium of activities for power electronics and promotion of efforts to contribute as a key competence center for the Kyushu region.
Promotion of collaborative projects with industries through the sharing of the research outcomes based on the open laboratory vision.
Provision of doctoral-level education based on project-based learning and the establishment of a career flow towards industries.
Embodiment of the inter-university plan based on the three-party research collaboration.